Your Commercial Property Marketing & Listing Resource
List or find properties in our commercial property directory and search engine.
List

Properties

List commercial availabilities with no restrictions.

More Info

Search

Properties

Search a national database of sale/lease inventory with no restrictions.
More Info

Market

Properties

Market inventory to a local or national database with proven tools.
More Info

eMarket:
Changing the Way You Do Business in 3 Steps
Design Email Brochures

Create eMarket blasts from your listings in the database. Learn More

Send National Database

Target your blast: national, state, or MSA send. Learn More

Deliver Proven Results

Blast inventory to the inboxes of commercial professionals. Learn More
Focus on the Bigger Picture and Let Us Do the Work for You!
Custom eMarkets: upload a file to the PL Design Team for a sleek brochure that allows for more graphics and customization than standard blasts. Learn More

Property Line Blog Company News, Bits & Blog. Live from Las Vegas!
Visit our Blog
Hot off the PRWeb press: Property Line Member Drive—Commercial Real Estate Game Changer!
Hot off the PRWeb press: Property Line Looking for Partners in Commercial Real Estate Sector.
Property Line:
Your Commercial Property Listing Resource
Since 1984, Property Line has been supporting the commercial brokerage community by marketing properties, promoting commercial brokerage companies, and offering unparalleled marketing tools to the commercial broker. The Property Line goal is to streamline the commercial agent's responsibilities, boost production and improve financial returns. Reliable information, dependable marketing vehicles, and organizational tools created specifically to meet the needs of today's competitive-and successful-commercial agent have been Property Line's hallmark since its inception.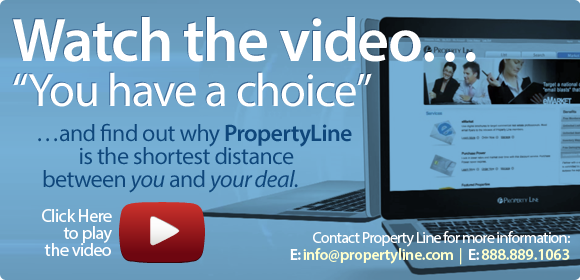 Having trouble viewing the video? Watch it directly on YouTube.
Log In
to Property Line.
Property Line has made technical upgrades NOW USE YOUR email Address as your User ID
Your password remains the same
Example: UserID - abroker@company.com
Password - 12345
Benefits
PL Membership

Registration provides instant access to national listings, searching, and marketing. Click here to Sign Up today!

Unlimited Listings

List with no premium membership levels and gain access to the latest listings. Upload unlimited attachments such as photos, documents, etc.

Unlimited Searching

Search national availabilities of commercial sale, lease, and comparables properties.

Inventory Mapping

Free interactive maps of your listings provided by Google Maps™. Instant satellite aerial photo and directions provided for all your listings.

Free Demographic Reports

Detailed property reports with one, three, and five miles radius demographic information.

Unparalleled Member Service

Partner with a customer-centric business that is committed to proactive services that surpass the expectations of our members.
Services
Bulk Uploads

PL's Free Bulk Importing Service helps agents and companies keep inventory up-to-date.

Company Branding

Free company branding service enables clients to market inventory without sacrificing corporate identity.

Web Services

Pick the pages you want to create a custom agent, company, or listing web site.
Member Success Stories
Property Line's platform may be the #1 platform for our market in terms of coverage, but I find the real value is in how my listings integrate automatically into my website. I spend most all day logged into propertyline.com as it gives me the best coverage of the Las Vegas market. I know that if a property is not in Property Line, it is probably not listed with a broker. Loading listings into propertyline.com is much easier than the other systems I have or currently use. Their interface is straightforward and intuitive. Property Lines eMarkets are competitively priced, and get the word out to Brokers when I have a special deal going, a large price reduction, or a new listing that I want to give maximum exposure.
Wesley A. DrownRE/MAX Commercial Division